What Is a Seamless Bra and Why They're Perfect for Your Girl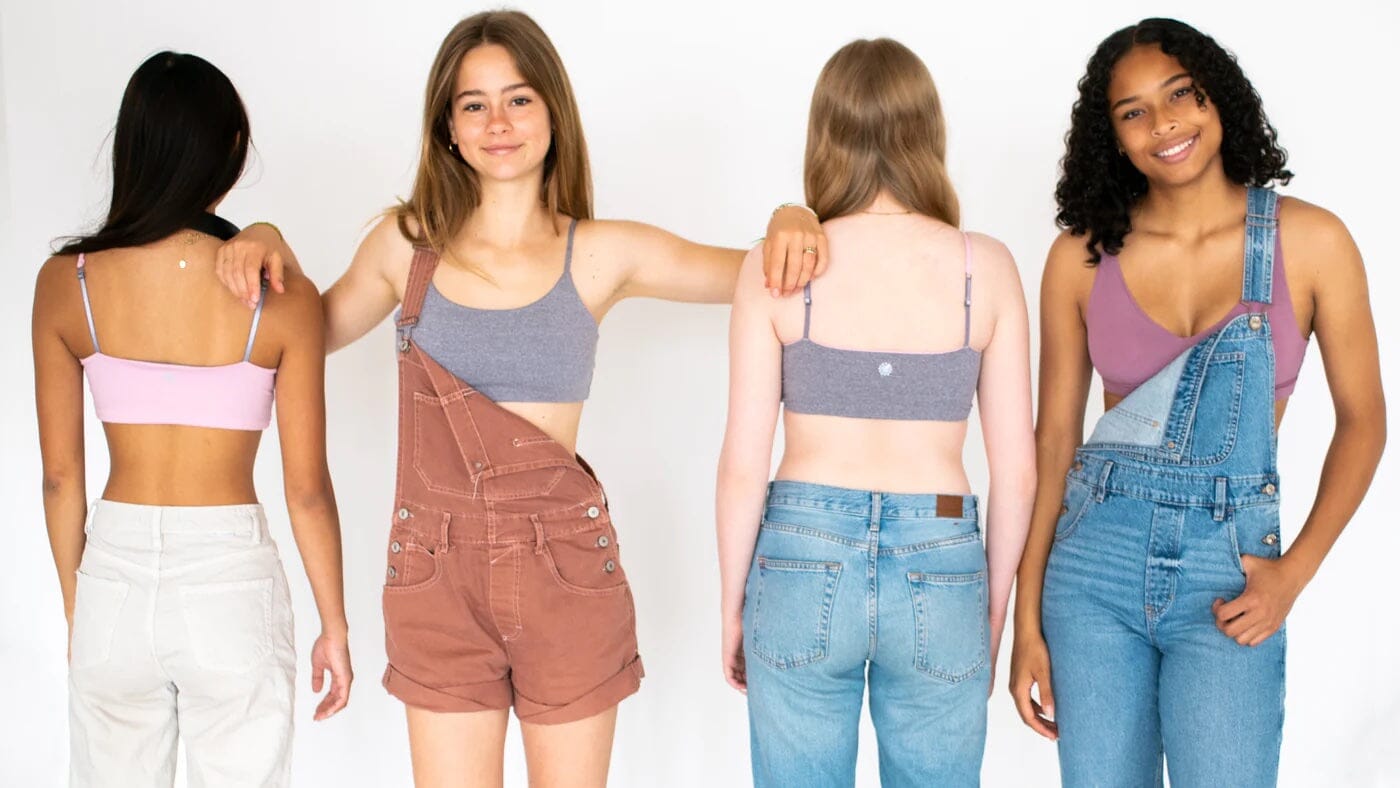 Navigating the world of first bras for your daughter can sometimes feel like learning a new language. With terms like balconette, plunge, and push-up floating around, it's easy to feel a bit lost. But fret not, as we're here to guide you through one term that stands out for its comfort and suitability for young girls: the seamless bra. 
Let's delve into the world of seamless bras, the perfect starting point for your daughter's journey into womanhood.
What Is a Seamless Bra?
Seamless bras are exactly what they sound like – seamless! Crafted without seams or underwires, they offer a smooth and invisible look under clothing, making them a delightful choice for girls. They are typically made from a blend of elastic materials such as nylon, spandex, and polyester, ensuring optimal breathability and maximum ease. Importantly, these bras are specifically designed to be gentle on young girls' sensitive skin. Moreover, the breathable fabric keeps the skin fresh, avoiding any sweaty discomfort, which is particularly beneficial during warmer months or physical activities. 
Tabular Comparison: Seamless Bra vs. Seamed Bra
| | | |
| --- | --- | --- |
| Feature | Seamless Bra | Seamed Bra |
| Construction | Made with a single piece of fabric for each cup | Features multiple pieces of fabric sewn together |
| Appearance | Smooth, invisible under thin or tight clothing | May show seams or texture through clothing |
| Support | Generally offers less support | Usually provides greater support and shaping |
| Suitability for Breasts | Ideal for smaller to medium-sized breasts | More suitable for larger breasts |
| Comfort | Very comfortable due to the absence of seams | Can be less comfortable due to seams, but depends on construction and fit |
| Versatility | Great for t-shirts, form-fitting tops, and dresses | Good for structured clothing and garments that require extra support |
Seamless Styles to Choose From
As your daughter blossoms into her tween years, finding the right bra that ensures both comfort and style becomes a priority. Here, we explore various seamless styles from Bleuet, each offering unique features and benefits:
Bleum Bras
Our Bleum Bra is the quintessential first bra, setting the standard as the most dependable option that provides the perfect foundation for any outfit, ensuring that you step out with confidence every single day.
Key Features
Double-layered and Ultra-Soft:

Seamless coverage for complete comfort

Dual-Toned and Reversible:

Two color options in one bra

Customizable Fit:

Adjustable straps ensure the perfect fit

Durability:

High-performance fabric ideal for daily wear
Aster Organic Bras
Available in styles such as tank and racerback, our Aster Organic Bra collection is your go-to choice for girls, meeting their needs for daily wear, physical activities, and even special occasions.
Key Features
Organic and Sustainable:

Responsibly crafted from a blend of TENCEL™ Lyocell organic cotton and spandex

Enhanced Support:

Comfort stretch band for added stability

Moisture-Wicking:

 Fabric is designed to actively draw moisture away from the skin to keep you cool and dry

Skin-Friendly:

Perfect for sensitive skin, featuring no elastic straps
Bleum Bamboo Neutral Bras
Made from sustainable and breathable bamboo fabric, our Bleum Neutral Bamboo Bras are the perfect addition to your wardrobe. 
Key Features
Versatile Style:

Double-lined for seamless coverage

Durability:

Fabric maintains its shape and color well over time

Seamless Comfort:

Minimal seams and a tag-free design

Breathability:

Natural fibers in the bamboo fabric keep you cool and dry throughout the day
Bleum Active Bras
Ideal for the active young girl, our Bleum Active Bra is constructed to offer the right amount of support needed for physical activities, from sports to dance, while ensuring freedom of movement. 
Key Features
Enhanced Support:

Extra stability for active play and movement

Seamless Comfort:

Minimal seams and a tag-free design

Inclusive Size Range:

Fits sizes 8 to 20 and provides support for A to C cups

Moisture-Wicking:

High-performance fabric to prevent sweat marks
Finding the Perfect Fit
Choosing the right fit is a pivotal step in ensuring confidence for your daughter. Here are some guidelines to help you find the perfect seamless bra:
Understanding Measurements
Before you start shopping, it's essential to take accurate measurements. You'll need to measure both the ribcage (just under the bust) and the bust (at the fullest point) to determine the correct size. Many brands provide sizing charts on their websites to assist you in finding the right fit based on these measurements.
Comfort is Key
A seamless bra should fit snugly, akin to a gentle hug, without leaving any red marks or indentations on the skin. The straps should sit comfortably on the shoulders without digging in, and the band should sit parallel to the ground, not riding up at the back.
Room for Growth
If your daughter is between sizes, it's a wise choice to opt for the larger size. This not only ensures a more accommodating wear but also provides extra room for growth, extending the lifespan of the bra as she matures. Moreover, many bras come with adjustable straps and bands, allowing for a customized fit that can adapt to her changing body.
Trial and Error
Finding the perfect fit might take a few tries. It's always a good idea to buy a couple of different sizes and styles initially to find out what suits her best. Remember, the most important aspect is how the bra feels to her; it should provide support without restricting movement or causing discomfort.
Making the Transition Seamless With Bleuet
As your child blossoms into a young adult, a world of new experiences and discoveries unfolds. At Bleuet, we are here to stand by your side as you guide your girl through this significant phase of growth and self-discovery.
We understand that the onset of puberty brings a whirlwind of emotions, both for the teens stepping into this new chapter and for the parents navigating this transformative period with them. That's why we have created a range specifically designed to turn the experience of buying your daughter's first bra from a task filled with apprehension to a joyful and empowering milestone.
To this end, our bras serve as a gentle embrace and soft cushion of support for your daughter on her journey to womanhood. Crafted from premium materials and available in a wide range of sizes, they're designed to instill self-assurance in every girl, helping her feel great in her own skin.
But our commitment goes beyond just creating quality bras. We believe in turning this significant step into a celebration, a moment that you can cherish together. Our delightful unboxing experience is designed to make this chapter a joyous occasion, a beautiful memory in the making. Plus, to make sure your girl has the perfect fit, we offer free returns.
At Bleuet, we are not just a brand; we are a partner in your journey, ensuring that every step is met with understanding, comfort, and a sprinkle of fun. Choose Bleuet, where the transition to adolescence is not just seamless but also filled with moments of excitement and confidence.
Conclusion
Seamless bras act as a fundamental element of ease and well-being as young girls step into the next stage of womanhood. They facilitate an introduction to the world of bras, ensuring a nurturing and supportive experience. Furthermore, seamless bras deliver exactly what they promise – a sensation of utmost comfort and breathability, much like being enveloped in a tender hug.
FAQs
What are the advantages of a seamless bra?
Seamless bras, like the ones sold on Bleuet, offer unparalleled comfort due to their wire-free and stitch-free design, providing a smooth silhouette under any outfit. They are particularly beneficial for young girls, offering gentle support without restricting their growing bodies. Moreover, their versatile nature makes them suitable for a wide variety of outfits, from school uniforms to casual wear.
Can I wear a seamless bra every day?
Absolutely, as seamless bras, like the ones sold on Bleuet, are designed for everyday comfort and can be a staple in your wardrobe. Their gentle cushioning and smooth silhouette make them ideal for daily wear, providing support without compromising on style.
Do seamless bras have padding?
Yes, some seamless bras come with padding to offer additional shape and support, while others might be without for a more natural feel. The choice of padding also often depends on personal preference and the specific design of the bra.
---