A Step-By-Step Guide for Moms: How to Buy a Training Bra for Your Daughter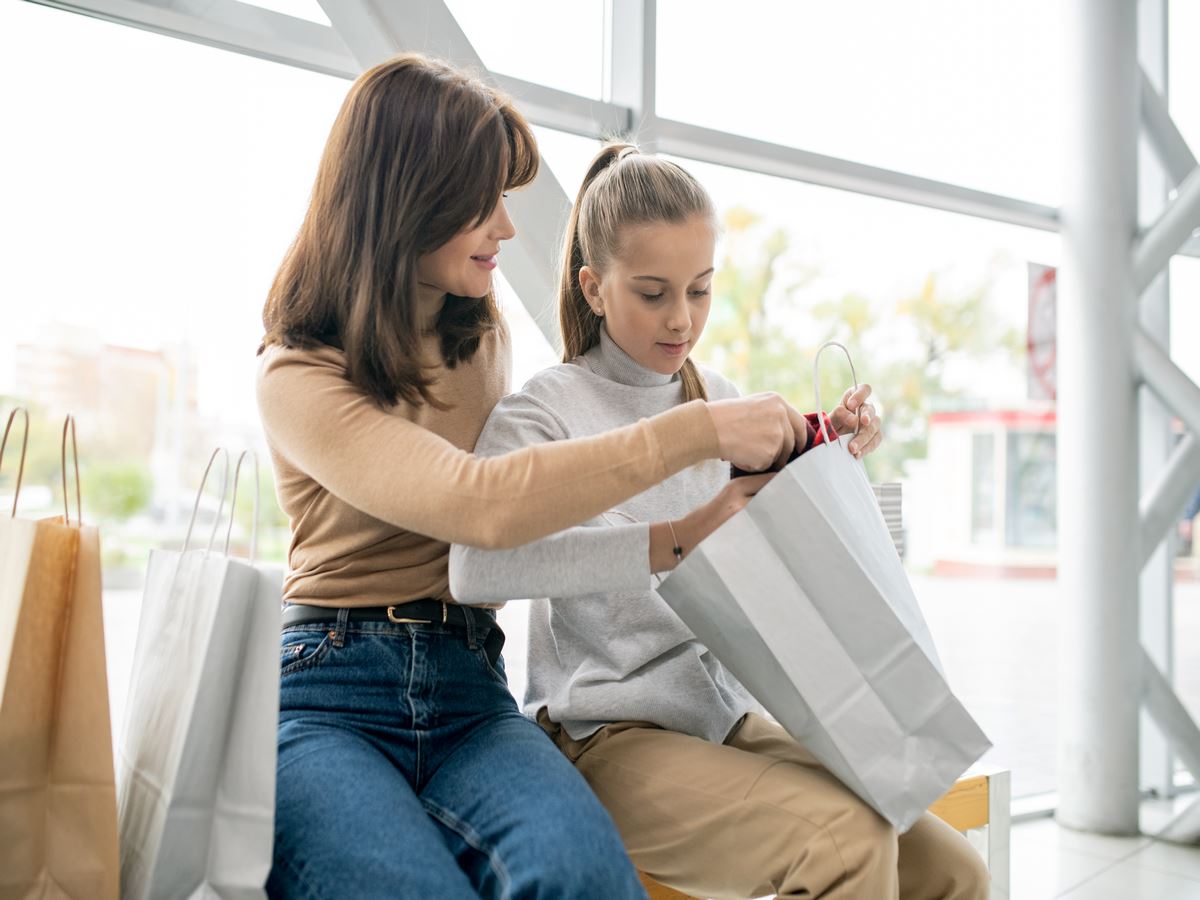 Buying your daughter her first training bra is a milestone that is as exciting as it is important. It's a time of growth, a hint of the woman she will become, and a wonderful opportunity to strengthen the bond you share. This guide is here to help you navigate this significant moment with grace and understanding, turning it into a cherished experience filled with shared smiles and newfound wisdom. 
Ready to embark on this beautiful chapter? Let's dive in.
What Is a Training Bra
A training bra is a lightweight, non-wired piece designed to offer gentle support and coverage during the initial stages of breast development. This garment serves as a comforting introduction to the varied world of bras, ensuring the necessary support without any added pressure or restriction. 
When to Buy Your Daughter's First Training Bra
As your daughter reaches adolescence, identifying the right time to introduce her to a training bra becomes an important consideration. This decision isn't solely based on age; it's also influenced by specific physical and emotional signs that indicate she's ready for this change. Below are some key indicators that suggest it may be appropriate to explore this new option:
| | |
| --- | --- |
| Factor | Considerations |
| Physical Development | Monitor signs of breast budding or other changes indicating the onset of puberty. |
| Comfort | Observe if she shows signs of discomfort, like tugging at her shirt or complaints. |
| Activity Level | Consider the types of physical activities she engages in. Some sports may require additional support. |
| Emotional Readiness | Discuss openly with your daughter to gauge her feelings about wearing a training bra. |
| Peer Influence | Peer influence can sometimes pressure kids into feeling they should wear a bra before they need to. |
| Types of Clothing Worn | If she wears light or clingy fabrics, a training bra can provide extra comfort and coverage. |
Being attuned to these signs can pave the way for a heartfelt conversation about purchasing her first training bra, fostering a smooth and reassuring transition for both of you. 
How to Measure for a Training Bra
Starting the search for the right training bra involves taking accurate measurements. It's not just about ensuring a right fit; it's also about introducing your daughter to a world where she learns to prioritize her comfort and well-being. Let's delve deeper into the process of measuring for a training bra, ensuring that you have all the information you need to make this a smooth and educational experience.
1. Understanding the Importance of Proper Measurement
Before you begin, it's essential to explain to your daughter why getting the right fit matters. It's a lesson in self-care, teaching her to choose garments that respect and accommodate her body's natural growth.
2. Gathering the Necessary Tools
All you need is a soft measuring tape to get started. Ensure that it's flexible enough to wrap around the body snugly without causing any discomfort.
3. Taking the Measurements
 Two essential measurements are needed:
Underbust - Band Measurement

: Measure the area right under the bust, where the band of the bra will sit. Make sure the tape is snug but not tight, and record the measurement in inches.

Overbust  - Bust Measurement:

This measurement is taken around the fullest part of the chest, usually across the nipples. The tape should be held firmly but not tight, allowing for natural breathing and movement.
4. Consulting Size Charts
Once you have the measurements, consult the size charts available on the brand's website or store. It helps in finding a bra that is neither too tight nor too loose, providing the right amount of support and ease.
If she falls in between sizes, it's advisable to opt for the larger size. This allows room for growth, ensuring that the bra remains comfortable as her body continues to develop.
5. Seek Assistance if Needed
If you find yourselves unsure or confused, don't hesitate to seek assistance from store staff or customer service online. They are usually trained to help with such queries, guiding you to find the perfect fit.
Selecting the Ideal Training Bra
Choosing the right training bra is a crucial step that goes beyond just a shopping expedition. To this end, we'll guide you through the nuances of selecting the ideal training bra, ensuring a choice that celebrates her individuality and supports her growth:
Understanding Your Daughter's Preferences
Begin by having an open conversation with your daughter about her preferences. It could be about the colors she likes, the fabric she finds comfortable, or the style she wants to try. Encourage her to voice her opinions, fostering a sense of autonomy and confidence.
Exploring Different Fabrics
Training bras come in various fabrics, each offering different levels of ease and support. From breathable cotton to smooth microfiber, explore the options together, discussing the pros and cons of each.
| | | | | |
| --- | --- | --- | --- | --- |
| Material | Breathability | Comfort | Aesthetic Appeal | Ideal Use |
| Cotton | High | Gentle on skin | Basic | Everyday wear |
| Microfiber | Moderate | Very smooth | Seamless | Under tight-fitting clothes |
| Lace | Low | Varies | High | Special occasions, style |
Focus on Comfort and Support
While style and design are important, the primary focus should be on how she feels. Ensure that the bra doesn't dig into her skin or restrict her movements. It should provide gentle support, helping her transition comfortably into this new phase.
Navigating the Different Types of Training Bras
As you and your daughter delve into this chapter, understanding the variety of training bras available becomes an enlightening part of the journey. Each style is designed to cater to different stages of growth and comfort preferences. 
At Bleuet, we specialize in creating bras for teens stepping into adulthood. Hence, our aim is to guide you through our diverse range of options, helping you find the perfect piece that resonates with your daughter's evolving personality and needs.
Non-Padded Training Bra
Our Bleum Bra focuses on providing comfort and a natural shape without the addition of padding. They are an excellent choice for daily wear, offering a relaxed and gentle fit. 
Key Features
Crafted from ultra-soft fabric for smooth coverage

A natural and relaxed silhouette

Reversible with two fun colors
Camis
Designed with a shelf bra, our Bleum Camisoles serve as an extra layer of coverage, making them perfect for girls who are just starting to develop. These ensure that your daughter is at ease without feeling restricted. 
Key Features
Minimal seams and tag-free

Available in a variety of fun patterns and colors

Made from soft, breathable materials that prioritize comfort
Soft Cup Bras
Our Iris Modal Soft Cup Bra, characterized by cushioned cups, serves as an excellent choice for girls who have reached a more advanced stage of development. These bras go beyond the basic support offered by training bras or camis, delivering a higher level of structure and stability. 
Key Features
Gentle yet firm support without the use of underwires

A natural shape that ensures you feel comfortable 

Adjustable straps that allow for a customized fit
Padded Bras
Our Bleum Petal Padded Bra is ingeniously designed with a light layer of sewn-in padding that serves a dual purpose: offering supreme comfort while also ensuring modesty. This is especially useful for times when nipples are tender, as it provides a barrier to reduce discomfort.
Key Features 
Stay put sewn-in pads

A smooth silhouette under various outfits

Different levels of padding to suit individual preferences
Sports Bras
Engineered with a focus on delivering robust support during physical exertion, our Bleum Active Bra is an indispensable part of a young girl's clothing collection, particularly if she engages in sports or dance classes. The design aims to minimize movement and reduce impact, allowing her to participate in activities with ease and confidence.
Key Features 
High-performance and durable fabric to prevent sweat marks

Breathable and moisture-wicking fabric keeps her fresh and dry

Double-lined for smooth coverage
Bleuet: Your Trusted Companion in Her Growing Journey
Navigating the transition from childhood to adolescence is a major milestone, and Bleuet is here to make this journey positive and empowering. With a keen focus on quality and innovation, we offer ultra-soft, dual-layer first bras that are specifically designed to cater to the unique needs of teens and tweens.
What sets Bleuet apart is its commitment to inclusivity and sustainability. Offering a wide range of sizes from 8 to 24, we acknowledge the diverse body types of young girls, ensuring everyone finds their perfect fit. Moreover, our extensive collection boasts a beautiful range of neutral tones crafted from organic, sustainable fabrics, reflecting an inclusive and responsible approach to fashion.
But Bleuet is not just about products; it's about creating a positive experience. We promise a hassle-free shopping experience with free returns and exchanges, allowing you to find the right style and fit without any worries. Plus, the unboxing experience is designed to turn this event into a joyous occasion.
Choose Bleuet and make her first bra experience one that combines quality, comfort, and a touch of fun.
Conclusion
As mothers, we are given the wonderful opportunity to guide our daughters through this significant milestone with sensitivity and understanding. To this end, this guide has been your companion in creating a nurturing and joyous experience, transforming a simple shopping trip into a cherished memory filled with love and bonding. 
---